Dome Pressure Regulators for optimum emptying of gas tanks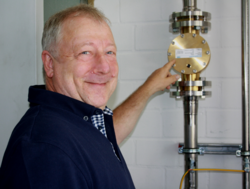 WITT DOME-LOADED PRESSURE REGULATOR – IT PAYS.
THOMAS GUSTUS, CEO GUSTUS & PARTNER / WITT GROUP
As part of the WITT Group, Gustus & Partner has provided premium technical service for many years to industrial gas users – from installation of customised gas supply facilities to maintenance services.
Managing Director Thomas Gustus took some time out to highlight the high performance of WITT's Dome-loaded pressure regulators.
Mr. Gustus, you recommend WITT Dome-loaded pressure regulators to your customers, why?
WITT Dome-loaded pressure regulators have a clear performance advantage over their rivals: e.g. its membrane or its Balanced Seat Design. Using flow simulation, WITT design engineers optimised the performance, and the difference becomes immediately clear to the user once it's put into service.
How does this performance advantage become apparent?
The outlet pressure control and stability is truly outstanding. Even when the flow is extremely high, or extremely low, the outlet pressure remains stable. And that's when a ∆P of less than 1 bar is crucial. In the field, that brings impressive economic advantages, as well as improved process reliability.
Can you give an example? Where exactly do economic advantages appear?
The gas tank or tanker can be emptied out to a greater degree than with other pressure regulators available commercially. As a result, logistics costs decrease. I give you an example from real life: My customer supplies a user, in this particular case a gas mixer, with helium; the mixer demands 16 bar inlet pressure. He uses helium gas tanks with 40 bar maximum operating pressure for the supply. These gas tanks can be emptied down to 17 bar by using the WITT Dome-loaded pressure regulator – operating at full capacity and delivering a stable working pressure. A comparable competing product only enables emptying down to 20 bar.
1 bar pressure differences between inlet and outlet pressure is enough for the WITT Dome-loaded pressure regulator, unlike 4 bar for the competing product?
Indeed, in this particular instance. The gas tank minimum pressure as well as the ∆P depends on the gas-take at any given moment, and the peak load. Either way WITT regulators are more effective.
In this particular case, how does your customer save money ?
With a WITT Dome-loaded pressure regulator installed, his gas tank can be emptied by around 13% more than before. In this special case 13 refill deliveries can be saved every year. It pays.

See our specialised product range:
Here you can download the article as a PDF: