OXYPAD rear view

OXYPAD is supplied with accessories in a case

OXYPAD - large 7″ touch-screen with graphical user interface for intuitive operation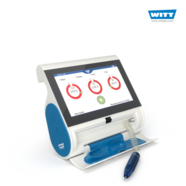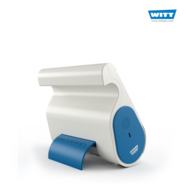 Gas Analyser OXYPAD
O2 or O2/CO2 gas analyser for MAP packaging - Mobile table-top unit
fast, accurate sample headspace testing for quality control
ideal for mobile use thanks to compact and lightweight design and battery operation
intuitive operation via large touch screen
low sample gas requirement ideal also for small packages
needle casing keeps the needle clean and safe
ergonomic needle pen for precise and safe handling
low operating costs due to long lifetime of the O2 sensor (approx. 2 years, depending on use)
low follow-up costs: easy sensor change and calibration by user possible
High-quality gas analyser for quality control of Modified Atmosphere Packaging.
The OXYPAD is a mobile desktop unit with an innovative design: a full-fledged desktop analyser with 7″ touch-screen, and it's truly mobile thanks to its low weight, ergonomic form and battery operation.
A true 2-in-1 solution for fast and accurate sampling via needle in laboratory or direct at the packaging machine. OXYPAD is simple to operate, suitable for practically all MAP packaging and costs little to operate. Available for O2 or O2/CO2.
Benefits
fast, precise and reliable measurement results
minimum sample gas requirement, also ideal for small packs
large 7″ touch-screen with graphical user interface for intuitive operation
ergonomic, compact and lightweight design as well as battery operation ideal for mobile use
needle casing keeps the needle clean and safe
ergonomic needle pen for easy and safe handling
sample flow control with warning in case of blocked needle
low operating costs owing to long lifetime of O2 sensor (approx. 2 years, depending on use)
easily accessible service flap for simple servicing and low maintenance costs
integrated data log of the last 5000 measurements
product administration functionality: up to 5000 users, 5000 product names and 5000 packaging lines
data transfer and battery-charging via USB port
easy to clean
displays pressure
multilingual menu guide
Here you find all downloads for the product.