The Power of Innovation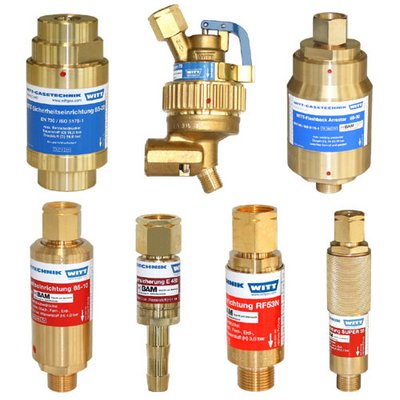 1945: It all began with the Flashback Arrestor
Founder Paul Witt launches the first dry flashback arrestor. WITT Flashback Arrestors have revolutionised accident prevention with fuel gases and are used throughout the world today.
Learn more about Flashback Arrestors
1956: More safety with the pressure sensitive cut-off valve
With the model 36 WITT enhances the flashback arrestor for the first time with a pressure sensitive cut-off valve. This immediately cuts off the gas supply in case of a flashback and prevents dangerous further work.
1966: Just super, the Super 66
The flashback arrestor Super 66 is born and offers a pressure relief valve, protecting the arrestor and hose. This WITT classic is available until today.
1971: No more backburning with temperature sensitive cut-off valve
Brilliant add-on to the flashback arrestor: The integrated plastic body melts and the spring-loaded valve triggers and interrupts the gas supply before the device can heat dangerously. A dangerous backburning is stopped at its source.
1977: Gas mixer for modified atmosphere in the food industry
Pioneer work: WITT markets the first production gas mixers for vacuum packaging machines.
Learn more about gas mixing technology
1978: Protection against reverse gas flow
Non-return valves enhance the gas safety equipment portfolio.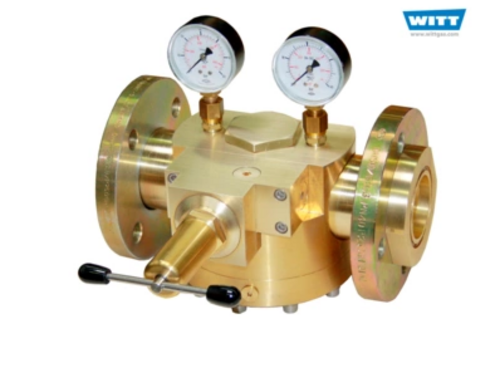 1978: Constant gas pressure with dome-loaded pressure regulators
Pressure regulators using a gas cushion offer highest stability of the gas pressure even in the case of severe withdrawal or inlet pressure fluctuations.
Learn more about dome-loaded pressure regulators
1978: Good – better – Super 78
The Super 78 combines all existing features of a flashback arrestor: flame arrestor, non-return valve, pressure and temperature sensitive cut-off valves and pressure relief valve.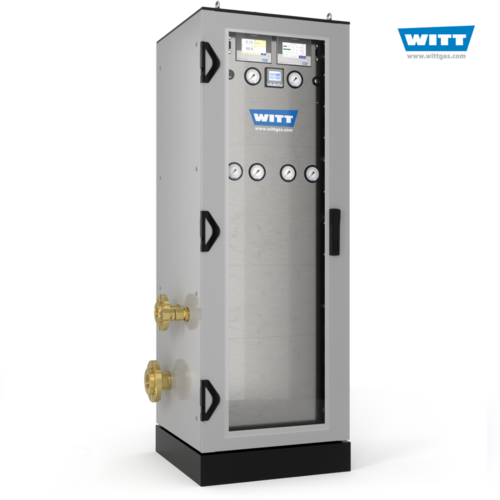 1983: CO2 Laser
In close cooperation with leading CO2 laser producers, the company develops special gas mixing components.
1985: Big safety
The 85-30 is up to now the biggest single WITT flashback arrestor. Approx. 20 cm long, 4.5 kg heavy and with up to 850 m3/h flow rate.
1985: Controlled pressure relief
Safety relief valves to reliably protect tanks, pipelines and plants against overpressure.
1986: Never running short of air – gas mixers for diving applications
WITT designs dedicated gas mixers for the filling of cylinders on a diving boat. Special mixtures of Oxygen and Helium are made depending upon the intended diving depth.
1987: Gas mixers for medical applications
"Synthetic air" is a mixture of pure oxygen and nitrogen for medical applications. WITT synthetic air mixers offer easy operation via touchscreen, low investment and maintenance costs, easy integration into existing systems, and low energy usage.
1989: One device for (almost) all – the MFA gas analyser
Operating with thermal conductivity the MFA can analyse several gas mixtures – perfect for mobile service use.
1991: Gas mixers for the beverage industry
WITT develops special gas mixing systems for the filling and dispensing of beer.
1992: Mobile gas analyser OXYBABY
An era begins: the mobile one-hand-analyser by WITT is launched and makes the quality control of modified atmosphere packages easier. To this day the OXYBABY is the top-selling WITT analyser.
1993: Hose coupler save money and improve safety
WITT hose couplers allow lightning-fast connection and disconnection of equipment. Of course according to EN561/ISO7289.
1993: MFCs for the glass industry
MFC technology (MFC = Mass Flow Controller) enables the precise gas mixing and metering, for example for gas burner systems in the glass industry.
1994: Helium leak testing
WITT builds the technological heart of helium leak-testing devices, e.g. for testing of the integrity of fuel tanks in aircraft wings. For this ambitious challenge WITT combines gas mixers, gas metering, and analyser systems.
1998: Who offers more? Pressure regulator with unrivaled flow rate
The new version of the manifold pressure regulator ADR 150 offers a flow rate of up to 150 m³ acetylene per hour.
2000: Biogas – make the most of waste
Special WITT stainless steel non-return valves approved by the DVGW (German Technical and Scientific Association for Gas and Water) prevent the build-up of hazardous gas mixtures.
2002: Hydrogen application protected up to 17 bar
The stainless steel flashback arrestor F100N-ES offers protection against dangerous flashbacks for hydrogen applications and is suitable for working pressures up to 17 bar.
2003: Bright yellow and wonderfully aromatic – WITT lets bananas ripen
Mixing and metering solutions by WITT allow the controlled ripening of bananas by using ethylene. For perfect product quality at the point of sale.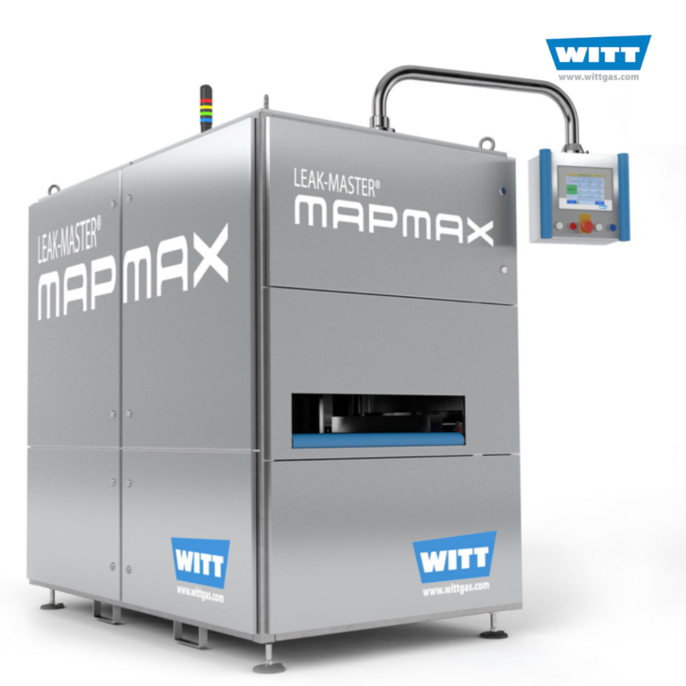 2003: First package leak detection
The new LEAK-MASTER series enables the non-destructive leak testing of packages. Highly sensitive CO2 sensors detect even the smallest of leaks.
Learn more about package leak detection
2005: Inline leak testing of food packages
The LEAK-MASTER MAPMAX as inline solution allows a 100% leak testing with up to 15 cycles per minute - unrivalled speed, even today.
2007: Gas analysis with zirconium sensor
The gas analyser PA delivers faster and more precise results by using a zirconium sensor.
2007: Wherever the gas mixture is required - with mobile gas mixers
The very compact gas mixer BM-2M proves to be the ideal solution for mobile use, e.g supplying small welding equipment.
2008: Gas mixers with remote control
Electric mixing valves and electronic control units make the complete integration of gas mixers in complex processes possible, even with remote control.
2008: More than just beautiful – a Red Dot Award for gas analyser MAPY 4.0
The MAPY 4.0 WITT shows that design, ergonomics and functionality can be combined in a perfect way. The result: a Red Dot Award for outstanding product design.
2011: Algae for energy generation
WITT provides mixing and analyser systems for the precise dosing and supply of carbon dioxide in algae production processes.
2011: Safety for hydrogen vehicles
The safety relief valve SV811 valve is approved for installation in passenger cars and buses. It protects the vehicles' hydrogen system from dangerous overpressure in a broad spectrum of pressures from 2 to 45 bar.
2014: Dome-loaded pressure regulators with integrated pilot pressure regulator
More stable, more compact – after a re-design the WITT dome-loaded pressure regulators work with an integrated pilot pressure regulator.
2018: Laser gas analyser OXYBEAM
OXYBEAM uses laser light for detecting oxygen concentrations in transparent packages without impairing it.
2019: Smart Dome Pressure Regulator
The Dome-loaded Pressure Regulator 757-LE/S now offers a "smart-option" for network production. Current parameters such as gas pressures and temperatures as well as the flow rate are determined in real time and can be sent to other systems for monitoring and control. A turning point in the field of industrial valves and an important step towards the implementation of Industry 4.0.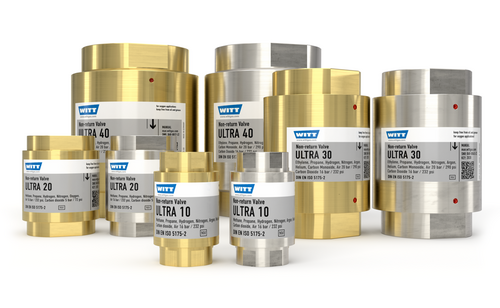 2020: ULTRA – Technology leap in Non-return Valves
With the ULTRA model family, WITT is launching the next generation of gas backflow prevention: Completely redesigned with a flow-optimised valve system, the fittings are significantly more compact with the same output or achieve a higher output with the same connection size. Plus, they are particularly quiet and low-wear.
With extremely low opening pressures of 4 mbar, it guarantees the lowest pressure losses - ideal e.g. for low pressure applications, in thermal processing or biogas plants.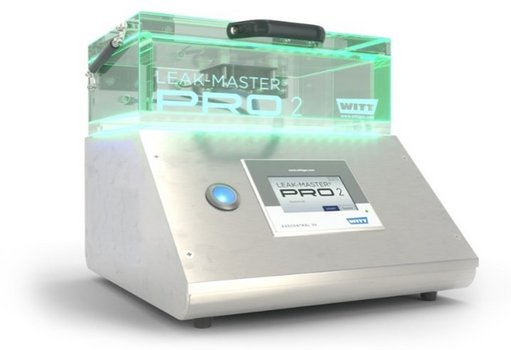 2020: Intuitive and economical - CO2 leak testing in acrylic chamber
The principle of non-destructive leak testing based on CO2 has been optimised to create the LEAK-MASTER® PRO2 model:
In the clear acrylic chamber, the operator can perfectly follow the testing process. The light (green/red) immediately reflects the test result. An intuitive and fast workflow with a compact, easy-to-use device - at a strong price-performance ratio.
2023: OXYPAD - new device class for QM
With the O2/CO2 gas analyser OXYPAD, WITT-Gasetechnik presents a true 2-in-1 solution for the quality control of modified atmosphere packaging: high-quality table-top device and mobile analyser in one.
The innovative design is particularly user-friendly and makes operation quick, easy and safe: especially for the large touch screen, the needle casing that keeps the needle clean and safe and the ergonomic needle pen for precise and safe handling.