Dome Pressure Regulators in industrial plants
Automated gas supply to flame cutting machine
The 3 lines for oxygen and propane each go via a dome. The pilot control gas is regulated via proportional valves controlled by a PLC. Automatic adjustments of the Pilot Gas pressure regulate the flowrates into the burners, thereby controlling the cutting process.
The domes minimise any variations, and allow for optimal cutting, at a fraction of the price of a fully electronic control system.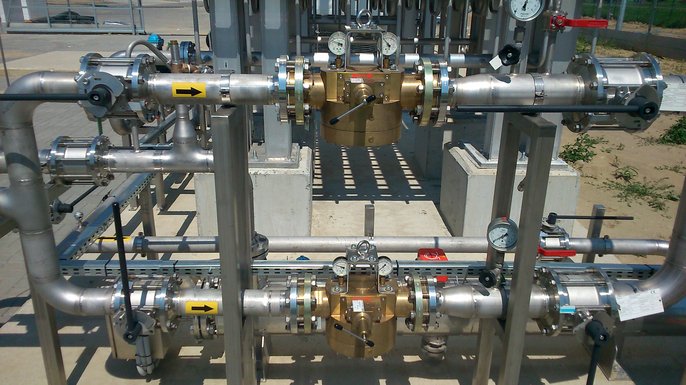 Nitrogen supply switch-over unit
The customer demanded a very high performance and reliable pressure control of a nitrogen supply for the packaging of potato snacks. To meet this challenge, WITT installed two supply lines in parallel, each with a dome pressure regulator set 767LE/S.
The gas is regulated from 12 bar down to 6 bar. The dome pressure regulators function independently. To allow for maintenance, ball valves enable each Dome to be isolated. This parallel arrangement gives 100 % up-time.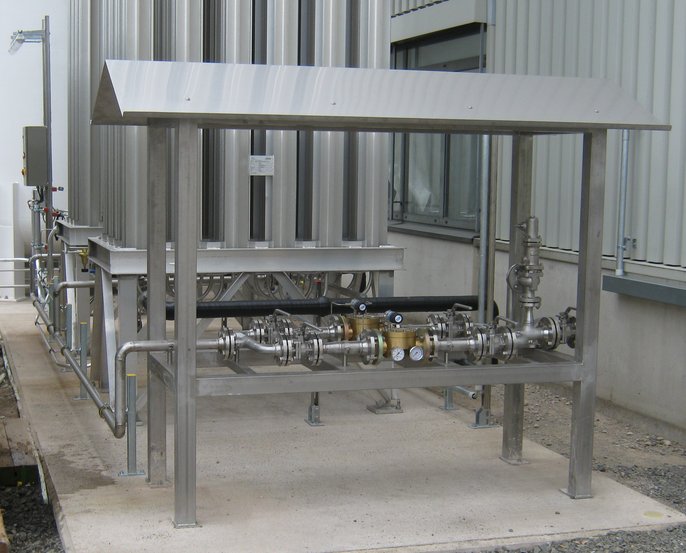 Redundancy-capable pressure control for Vacuum Annealing
The process required a constant 10 bar supply of nitrogen into the annealing furnace, from a 13 bar tank. The customer requested a parallel redundant system, plus a roof cover.
The average gas flow per furnace should be around 150 Nm3 / h, and 4 should be mounted, allowing up to 600 Nm3 / h. To allow for major process upsets requiring emergency N2 blanketing, a maximum flow rate of 1 600 Nm3 / h was set. Because the WITT Dome sets are also able to regulate small flows precisely, a single redundancy capability was designed for using the WITT 757 Set.
Redundant pressure regulating station DN100 for oxygen inerting of flame lances (steel industry)
The customer required an electronic pressure control system, with redundancy, to deliver a minimum flow of 2 200Nm³/h at up to 14 barg, from an inlet pressure of 15 barg. This was achieved with one WITT dome pressure regulator set 767LE (with proportional control) per line.
Upon request, a motorised shut-off valve was included on the inlet, to allow complete shut-off. Additionally, manual shut-offs before and after each regulator were included, to allow the evacuation of each line.
The design, build and commissioning of the system was undertaken by WITT partner Gustus & Partner GmbH, in cooperation with the customer.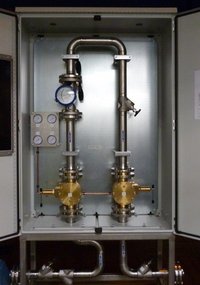 Customized Dome System for Oxygen supply
This customised system, fully assembled in a lockable cabinet, controls the supply of oxygen into an industrial waste water treatment plant.

The detailed specification to ensure a flow rate of some 1 000 m³ / h, was drawn up by specialist WITT company Gustus & Partner GmbH in conjunction with the customer, pre-commissioning TÜV certification.