Gas Non-return Valves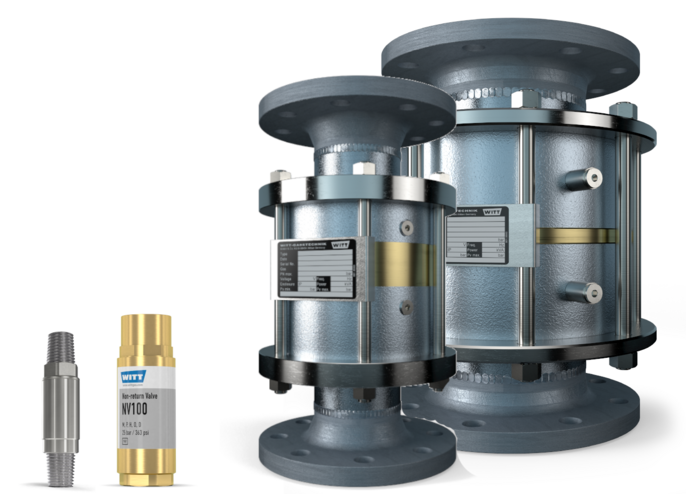 Safe protection against gas backflow and unwanted gas mixtures
Gas-using plants, piping systems and gas outlet points require protection against dangerous gas return and unwanted gas mixtures – with reliable, easily integrated fittings. For more than 50 years WITT has been offering high quality gas non-return valves which are known for their high quality and reliability and are used worldwide. The heart of the fittings is the sophisticated valve system, which enables particularly low opening pressures and thus very low pressure drops, perfect also for applications with lowest operating overpressures. In addition, the valves are permanently 'technically leak-tight' thanks to a high-quality sealing system with elastomers. The integrated dirt filters ensure that the finest particles in the gas are filtered out, thus extending the service life of the valves.
Gas non-return valves are also called check valves. WITT gas non-return valves can be installed in any orientation. They are available in brass, stainless steel and aluminum and with various elastomers, and can be used for all technical gases, for example oxygen, nitrogen, methane, hydrogen or compressed air. WITT offers check valves with nominal diameters from G 1/8" to DN 200 and flow rates from 0.01 to 26,000 m3/h.
A new era: ULTRA Performance for more economic benefits
With the new ULTRA series from WITT, the valve system has been completely redesigned and flow-optimised - the result is a worldwide unique performance that offers the user completely new advantages. On the one hand, it is significantly quieter and therefore less prone to wear. But the decisive feature of the WITT gas non-return valve is the extremely low opening pressure and the resulting minimal pressure loss: a guarantee for trouble-free and economical processes. Thanks to the new design, the ratio between connection size and flow rate has been significantly improved. As a result, a higher capacity is possible with the same connection size or a smaller connection with the same capacity.
This improved performance increases the efficiency and economy in pipeline and plant construction: the compact ULTRA is more space-saving in design than any other gas non-return valve and enables smaller, cost-effective pipeline diameters.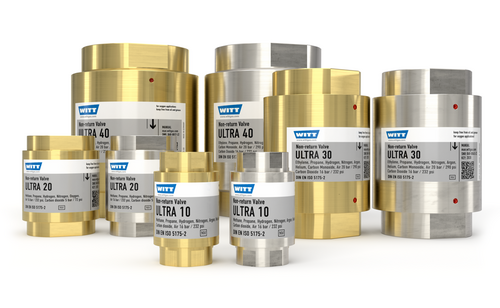 In thermal processing plants, when burning natural gas or liquid gas with air, the WITT gas backflow preventer is also flameproof. A separate flame arrestor is not necessary: another factor for lower pressure loss, less space requirement and lower costs.
The use of smaller pipe diameters is also interesting in biogas plants, as it reduces the costs of the compressor required for desulphurisation. In addition, the stainless steel models have proven their worth in the air supply lines to fermenters and biogas lines because they are extremely resistant to corrosion and can also be easily retrofitted into existing gas/air supply lines.
As WITT gas non-return valves can be installed in the air or oxygen line as well as in the fuel gas supply, procurement and storage costs are reduced. The valves are 100% tested and conform to DIN EN ISO 5175-2.
For special requirements, e.g. corrosive environments, acetylene, lightweight construction or temperatures above 70 °C, WITT offers customization options. The customer can specify combination of housing (brass, stainless steel, aluminum) and seal (NBR/CR, FPM/FKM, EPDM/FFKM), with or without filter, for the application - uncomplicated and tailor-made.
Regardless of the application - with WITT gas non-return valves you are choosing state-of-the-art quality, safety and economy for your gas supply.