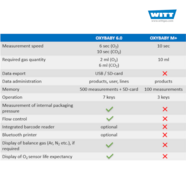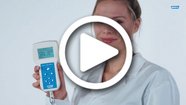 Gas Analyser OXYBABY® M+
O2- and O2/CO2- headspace gas analyser for MAP-packages, standard version
ideal for quality control
fast and precise sample headspace testing
minimum sample gas requirement
O2 value is displayed in 0,01% steps
long lifetime of O2 sensor (approx. 2 years, depending on use)
portable and rechargeable
low follow-up costs: easy sensor replacement and calibration by user
can be used as a tabletop unit by simply inserting a hose
Further information on www.oxybaby.com
Cordless handheld oxygen or combined oxygen and carbon dioxide headspace gas analyser for checking modified atmospheres in food packs. The ideal instrument for portable, faster and accurate sample tests at the packaging machine, in stores or in laboratories.
OXYBABY® M+ a cost effective mobile alternative to tabletop / fixed gas analysers. Ensure that the quality of packaged product is maintained (HACCP), guaranteeing continued customer satisfaction.
The ideal instrument for sample tests with a minimum sample gas requirement, allowing the smallest of modified atmosphere packages (MAP) to be tested. Integrated data log of the last 100 measurements assigned to specific product names or line numbers.
Benefits
minimum sample gas requirement for smallest packs
cordless operation using rechargeable batteries
simple one-handed operation
easy to clean
large illuminated graphic display
measurement alternatively also by hose
multilingual menu guide: German, English, French, Italian, Dutch, Swedish, Finnish, Spanish, Polish, Japanese and Russian
integrated needle cover to protect the user
long lifetime of O2 sensor (approx. 2 years)
low maintenance costs
Complete in carrying case
charging device and mains adaptor
15 spare needles
5 spare filters
set of 100 rubber seals
case dimensions (HxWxD): approx. 325x385x115 mm (12.79x15.16x4.53 inch),
case weight: approx. 1.7 kg
Options
hose with Luer-Lok connection for stationary measurement
Here you find all downloads for the product.