The Power of Innovation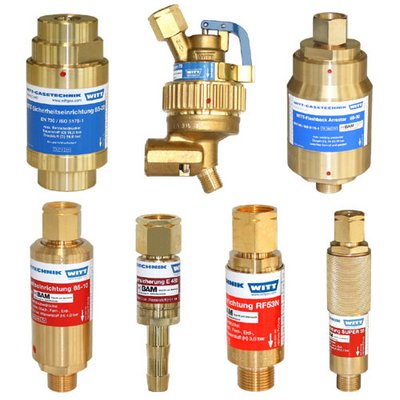 1945: It all began with the Flashback Arrestor
Founder Paul Witt launches the first dry flashback arrestor. WITT Flashback Arrestors have revolutionized accident prevention with fuel gases and are used throughout the world today.
Learn more about Flashback Arrestors
1956: More safety with the pressure sensitive cut-off valve
With the model 36 WITT enhances the flashback arrestor for the first time with a pressure sensitive cut-off valve. This immediately cuts off the gas supply in case of a flashback and prevents dangerous further work.
1966: Just super, the Super 66
The flashback arrestor Super 66 is born and offers a pressure relief valve, protecting the arrestor and hose. This WITT classic is available until today.
1971: No more backburning with temperature sensitive cut-off valve
Brilliant add-on to the flashback arrestor: The integrated plastic body melts and the spring-loaded valve triggers and interrupts the gas supply before the device can heat dangerously. A dangerous backburning is stopped at its source.
1977: Gas mixer for modified atmosphere in the food industry
Pioneer work: WITT markets the first production gas mixers for vacuum packaging machines.
Learn more about gas mixing technology
1978: Protection against reverse gas flow
Check valves enhance the gas safety equipment portfolio.
1978: Constant gas pressure with dome-loaded pressure regulators
Pressure regulators using a gas cushion offer highest stability of the gas pressure even in the case of severe withdrawal or inlet pressure fluctuations.
Learn more about dome-loaded pressure regulators
1978: Good – better – Super 78
The Super 78 combines all existing features of a flashback arrestor: flame arrestor, check valve, pressure and temperature sensitive cut-off valves and pressure relief valve.