Flashback Arrestors - for your safety!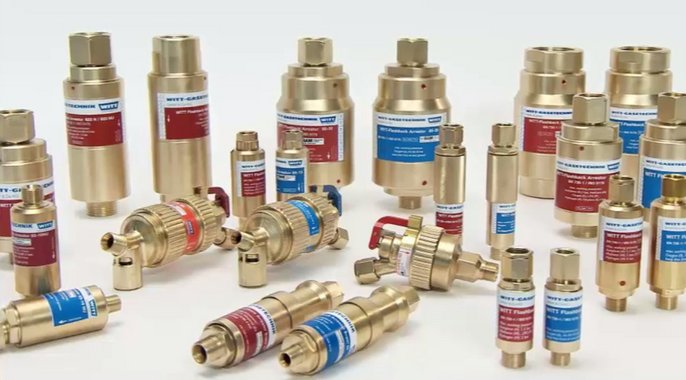 WITT flashback arrestors have revolutionized fuel gas accident prevention, and are used throughout the world today. When working with fuel gases, a dangerous situation can arise at any time. In the event of a flashback, the flame rips along the gas line at twice the speed of sound. It is impossible to intervene manually and prevent the accident. The safety device provides protection against such catastrophes: A multi-stage protection system, based on the dry flashback arrestor that WITT launched onto the market around 70 years ago.
Since the market launch of the flashback arrestor, WITT has continuously improved the functionality and synergy benefits of the individual components.
WITT's most modern version is a truly outstanding technical device and combines different protection elements: a gas check valve, a flame arrestor, a temperature-sensitive cut-off valve and, on demand, a pressure-sensitive cut-off valve.
WITT's flashback arrestors have been providing reliable protection for decades, and their effectiveness has been proven countless times.
WITT provides a complete product range for safety when using gases. No matter what the gas you are working with, what flow rate or connections you require – WITT has the right device for every application, in brass or stainless steel.